Special Supplemental Nutrition Program for Women, Infants, and Children (WIC)
Want to apply for WIC? Check your eligibility? Click below
We acknowledge that terms like "women," "mothers," and "breastfeeding" may exclude non-binary people who choose to chestfeed their babies. However, for ease of understanding, we will use the terminology currently adopted by U.S. government agencies.
---
What is WIC?
The Special Supplemental Nutrition Program for Women, Infants, and Children (WIC) provides supplemental foods, healthcare referrals, and nutrition education for low-income:
Pregnant and breastfeeding women

Non-breastfeeding postpartum women

Infants and children up to age 5
WIC's goal is to safeguard the health of these demographics who are at nutritional risk by providing resources for a healthy diet. 
---
How does WIC work? 
Each month, WIC participants receive checks or vouchers to purchase specific food items. These food plans are designed to benefit WIC's particular population. Some states issue Electronic Benefit (EBT) cards as well. 
---
WIC foods include:
Infant cereal and iron-fortified adult cereal

Vitamin C-rich fruit or vegetable juice

Eggs, milk, and cheese

Peanut butter

Dried and canned beans/peas

Canned fish

Soy-based beverages

Tofu

Fruits and vegetables

Baby food

Whole-wheat bread and more whole-grain options 
For women who do not fully breastfeed, WIC provides iron-fortified infant formula. 
Learn more details on the WIC food packages here.
---
How do I apply for WIC?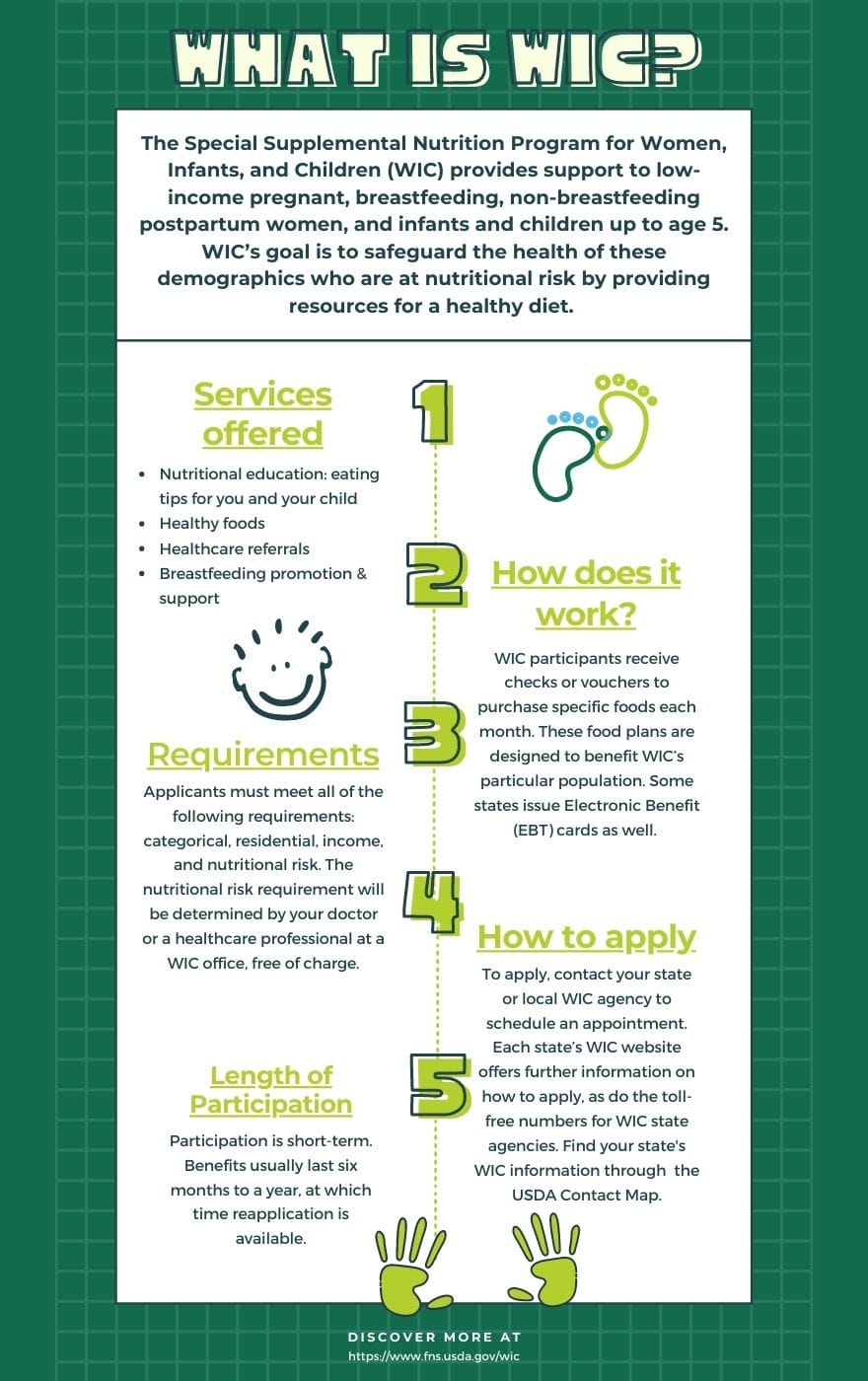 Applicants must meet the following requirements: categorical, residential, income, and nutritional risk. 
The nutritional risk

requirement will be determined by your doctor or a healthcare professional at a WIC office, free of charge. This

pre-screening tool

can help to determine your eligibility. 

Eligibility and benefits

for WIC vary between states. To apply, contact your state or local WIC agency to schedule an appointment. Each

state's WIC website

offers further information on how to apply, as do the

toll-free numbers for WIC state agencies

. 

Participation

is short-term. A participating household will "graduate" at the end of the certification period–the length of time a WIC participant can receive benefits. Benefits usually last six months to a year, at which time reapplication is available.

WIC agencies keep a

waiting list

if they do not have enough money to serve all of their applicants. A priority system is set in place to determine who is in the most need of assistance. 
Have questions? Learn more.