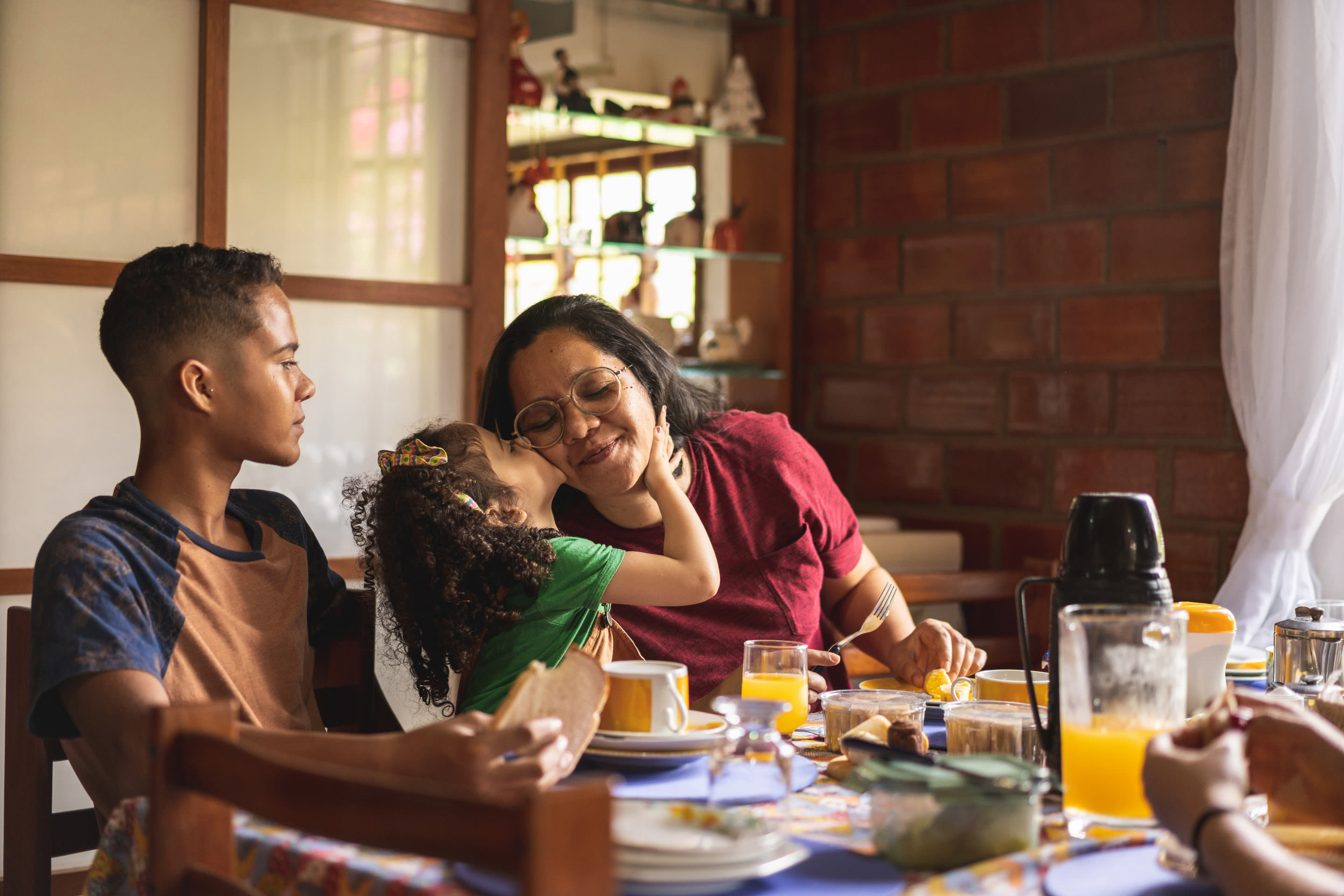 The Myths and Realities of Food Insecurity
Do you want to help debunk myths about food insecurity?
With an issue as complex as food insecurity, misconceptions may arise as communities fight stigma and spread awareness of the problem. These common misunderstandings can give the public the wrong impression about the global hunger crisis and can prevent further change from being made. 
Here, we debunked some common myths to help you better understand food insecurity. 
---
Myth: Hunger is not a problem in high-income countries like the United States.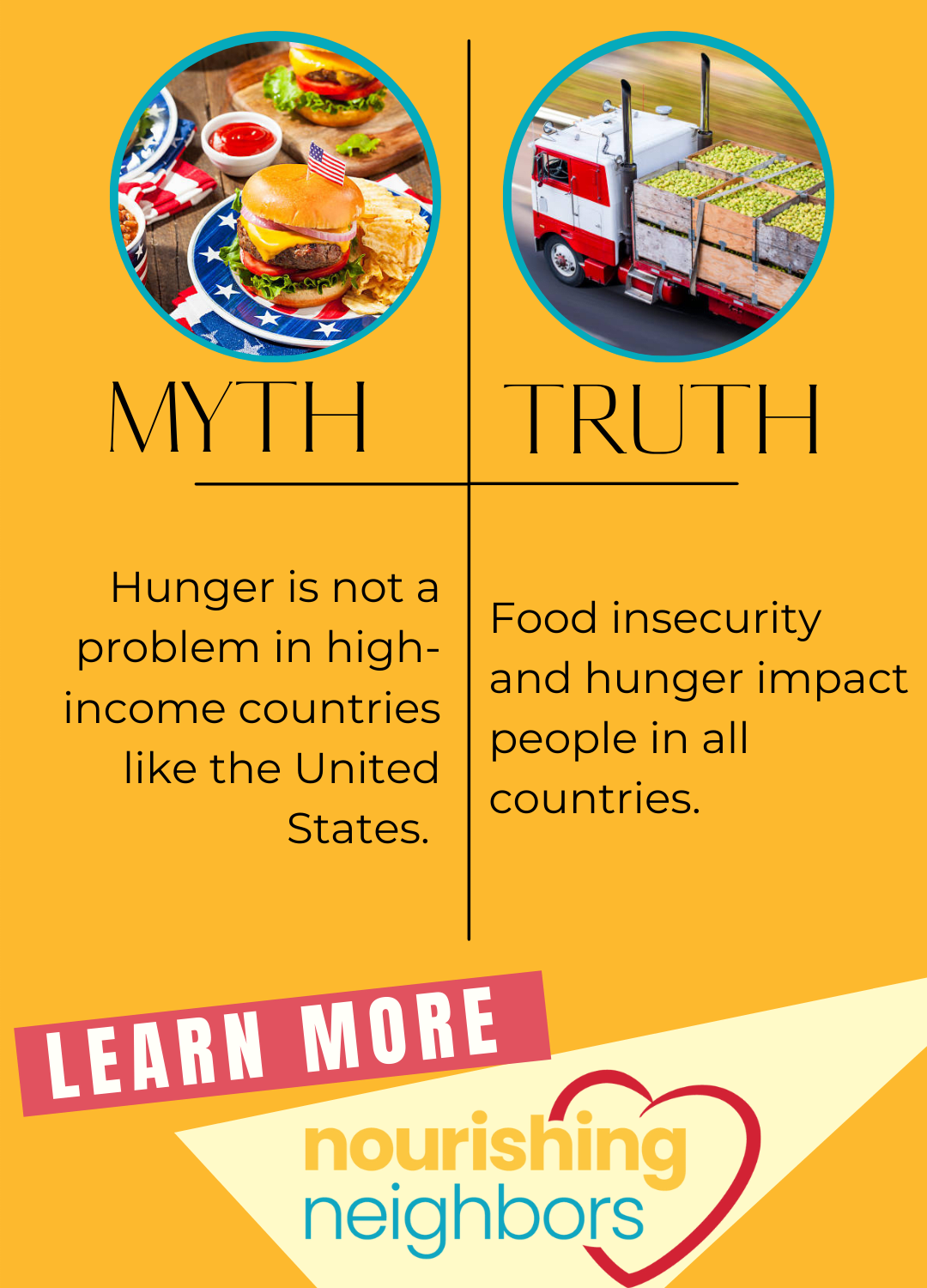 Truth: Food insecurity and hunger impact people in all countries. According to the United States Department of Agriculture (USDA), more than 38 million Americans, including 12 million children, are food insecure. In 2020, over 60 million Americans turned to food banks and community programs to feed themselves and their families during the COVID-19 pandemic. 
High-income countries with developed economies still experience income and resource inequality. The prevalence of food insecurity can fall between 8 to 20% in these regions. 
The truth is this: Hunger is a serious public health concern that impacts households worldwide. 
---
Myth: Food insecurity only impacts certain groups, like those experiencing homelessness.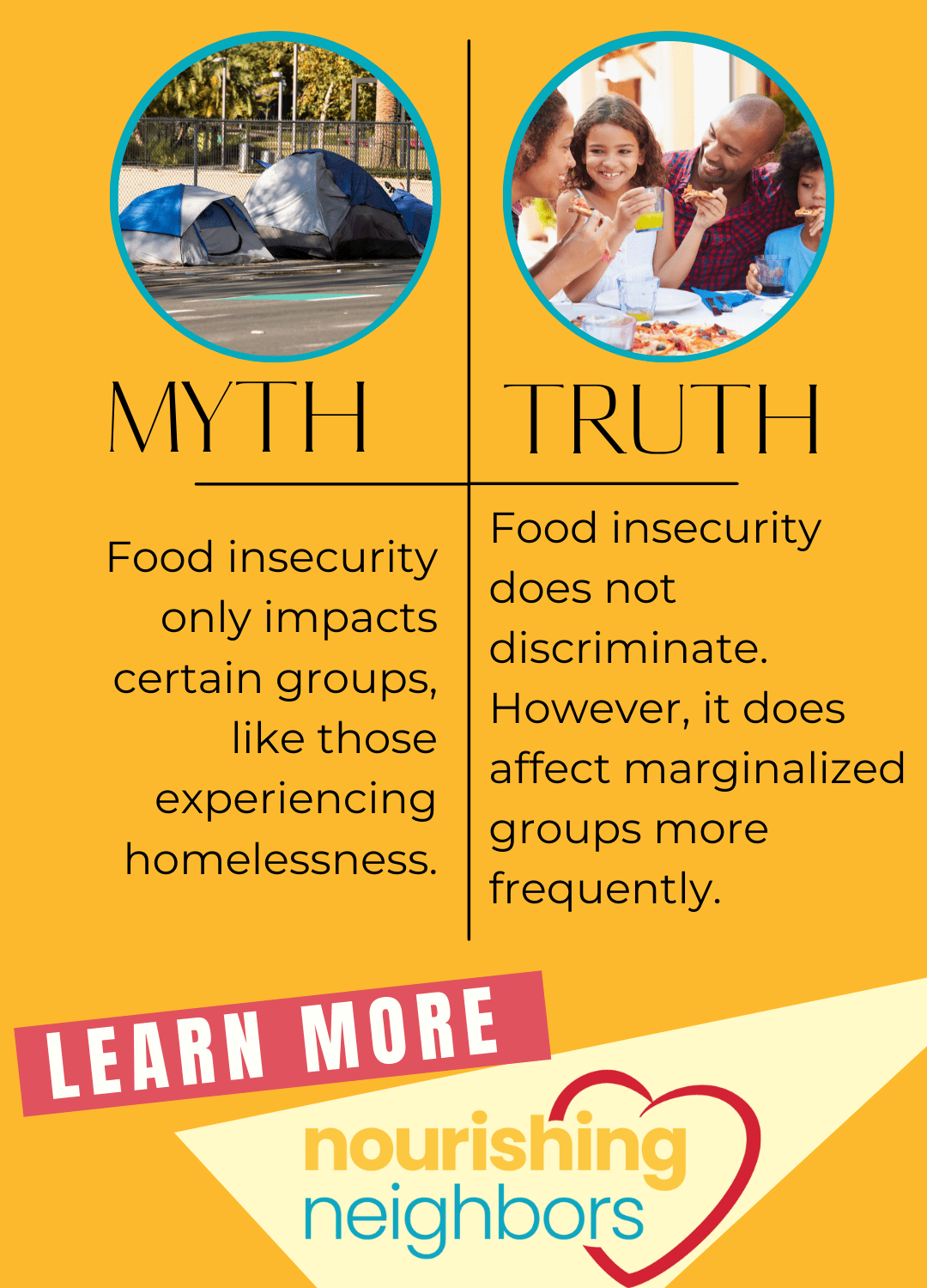 Truth: Food insecurity does not discriminate, though it does impact marginalized groups more frequently. Rural communities are especially vulnerable to food insecurity, and hunger among Black, Latino, and Native Americans is higher than among their white counterparts.
Hunger most often affects those who live in poverty. Since communities of color, women, people with disabilities, and seniors face high poverty rates, they are more susceptible to hunger. 
---
Myth: Food insecurity can be solved through more food.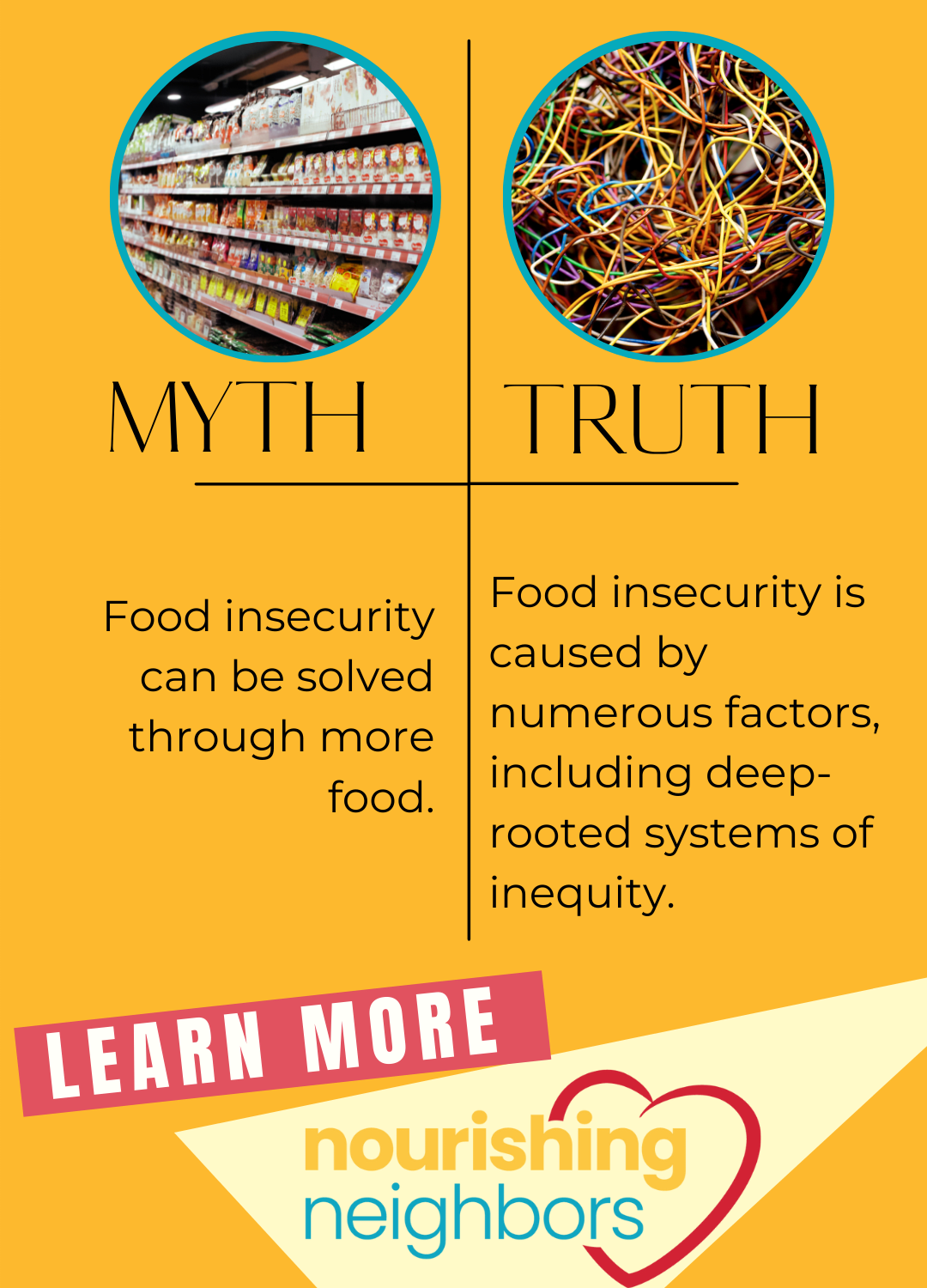 Truth: Food insecurity is caused by numerous factors, including deep-rooted systems of inequity. Hunger is frequently a symptom of poverty, which people of color experience more often than their white counterparts. 
Frequently, households have to decide between buying food and paying bills. A 2014 study published in the American Journal of Public Health found that nearly one in five adults – 18.8% – reported experiencing food insecurity at some point during the previous 30 days. Of those experiencing food insecurity, nearly 3 in 10 (27.4%) reported delaying or foregoing medical care in the last month.
Feeding America found that 69% of low-income households had to choose between food and utilities, while 66% had to choose between food and medical care. Having more food in the world will not solve the crisis–but making food more accessible could mitigate some of these issues. 
---
Myth: Programs like the Supplemental Nutrition Assistance Program (SNAP) are handouts for people who don't want to work.
Truth: SNAP benefits communities everywhere and assists families during difficult times. The program helps households with only a portion of their food budget. 
SNAP provides benefits to low-income families and individuals via an Electronic Benefits Transfer (EBT) card, similar to a debit card. Participants can buy food at grocery centers, local stores, and farmers' markets. The amount on each EBT is dependent on income and family size and is replenished monthly.
Primarily, SNAP helps low-income workers. On top of giving families a helping hand, SNAP can benefit the economy by boosting sales at local stores. SNAP expects families to spend 30% of their net income on food, while an average American spends about 8.6% of their income on food. The nonpartisan Congressional Budget Office (CBO) has found that SNAP has one of the largest "bangs-for-the-buck" in terms of boosting the economy – every dollar spent on the program provides more than a dollar in economic and employment benefits. 
The program is not a handout, and does not solve food insecurity, but it does greatly assist those in need. 
Want to read more about SNAP? Learn more here.