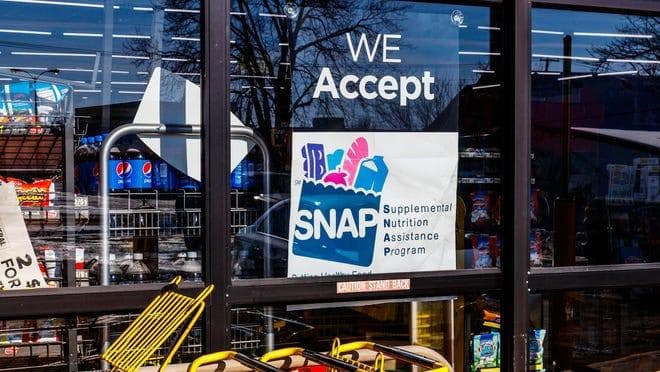 How to Apply for Food Assistance (SNAP)
Want to apply for SNAP? Check your eligibility? Click below
What is SNAP?
The Supplemental Nutrition Assistance Program, also known as SNAP, is the largest government program working to fight hunger in America. An estimated 9.5 million people use SNAP benefits to purchase food for their households.
---
How does SNAP work? 
SNAP provides benefits to low-income families and individuals via an Electronic Benefits Transfer (EBT) card, similar to a debit card. Participants can buy food at grocery centers, local stores, and farmers' markets. The amount on each EBT is dependent on income and family size and replenished monthly.
---
What can I buy with EBT?
EBT funds can be used to purchase any of the following: 
Fruits and vegetables

Meat, poultry, and fish

Dairy products

Breads and cereals 

Snack foods and non-alcoholic beverages 

Seeds and plants to produce food for the household
---
What
can't
I buy with EBT?
EBT funds cannot purchase: 
Beer, wine, liquor, and tobacco products

Vitamins, medicines, and supplements 

Live animals (not including shellfish and fish removed from water)

Foods that are hot at the point of sale 

Any nonfood items: pet foods, cleaning supplies, paper products, household supplies, hygiene items, cosmetics
Discover where to use the EBT card with this SNAP Retailer Locator. 
---
How do I apply for SNAP?
In most states, households can apply in person at a local SNAP office or use a mail-in option if available. Each state has a different application process. Frequently, local food banks can assist with SNAP applications. 
Eligibility varies between states and depends on three factors: gross monthly income, net income, and assets. Some cohorts are ineligible despite earnings, so be sure to check the eligibility guide. Once your application is submitted, it may take 30 days for your SNAP office to process it. 
Applicants will be asked to participate in an interview, often over the phone. The necessary documents to review eligibility include identity, residency, immigration status, household composition, income and resources, and deductible expenses. Have these resources available for your application and your interview. 
Have questions? Learn more.